Description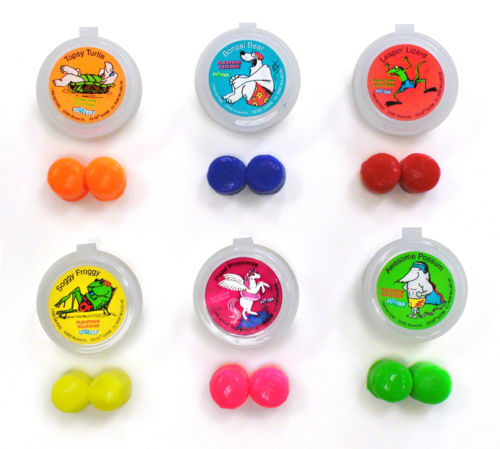 10 PAIRS OF FLOATING PUTTY BUDDIES
These Floating Putty Buddies® are just like the Original Formula except these ear plugs are made with a special, patented Flo-Tek® silicone formula.
They float easily on water so they can always be found if dropped or dislodged!
Available in six bright neon colors: Blue, Red, Green, Yellow, Orange, Hot Pink,and Tan.  Animal characters available with Floating Putty Buddies®: Bonzai Bear, Leapin' Lizard, Awesome Possum, Soggy Froggy, Topsy Turtle, and Pool Princess. Tan comes without cartoon animal character on the carrying case.
Recommended by physician's for prevention of swimmer's ear or for kids with ear tubes Softer silicone for a more comfortable fit Tacky texture to allow plugs to remain in position better Bright colors are appealing to kids – and easy to find in the pool or the bath.
How to use Putty Buddies® silicone ear plugs Do not force into ear canal Tear off as much silicone as needed, or use the entire plug for older children and adults Shape into a ball and place over clean, dry ear canal Flatten plug with finger and shape to cover outer ear until snugly fit Do not force into the ear canal.  Remove plugs by pressing up on back of ear Discard after 2 weeks of use or when dirty Putty Buddies® silicone ear plugs are reusable and should be stored in the handy carrying case.  Discard the ear plugs when they become dirty or lost their tackiness.
Silicone ear plugs are recommended by doctors for swimming, showering and general water protection.  Not recommended for diving in depths greater than 10 feet.
Although Putty Buddies® are not intended for noise prevention, the user will experience a slight reduction in hearing when plugs are worn.  For maximum protection, ear plugs should be worn with the Ear Band-It® head band.
CAUTION: Only cover opening of ear.  DO NOT INSERT IN EAR CANAL.  Silicone ear plugs are safe when used as instructed.  Keep away from infants.  If swallowed, the plugs are non-toxic but may interfere with breathing if caught in windpipes.  Do not spread silicone plugs too thin.  Avoid contact with hair and oil based lotions.
If you push a silicone ear plug into your ear canal, do not try to remove it yourself.  Do not use tweezers, cotton swabs or other devices as these may push the plug further into canal.  See an Ear, Nose and Throat (ENT) Physician as they have the proper instruments and skill to remove the plugs safely.  A silicone ear plug in the ear canal for a short time may be harmless, providing you do not attempt to remove the ear plug yourself and accidentally push it deeper into the opening. <!–